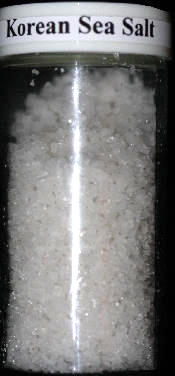 Natural minerals are essential nutrients for all living organisms.
Korean Sea Salt contains higher levels of natural minerals (Calcium, Magnesium, Potassium, etc) compared to imported salts.
Calcium

is essential for healthy, strong bones and teeth and adequate consumption is crucial to protect against osteoporosis.

Magnesium

is an often overlooked mineral and close to 90% of us don't get enough of it - if you don't have enough of it in your diet, you may experience symptoms such as appetite loss, lack of energy, headaches, and even depression. It keeps the heart healthy, and aids in the absorption of other vital nutrients.

Potassium

is central to a healthy heart, and it's important to have a healthy amount of potassium in the diet - particularly if you exercise.